› Archive for Reviews
Posted on by —
New tunes aired… Stronger performance… TEMPLES are back. JON 'MOJO' MILLS approves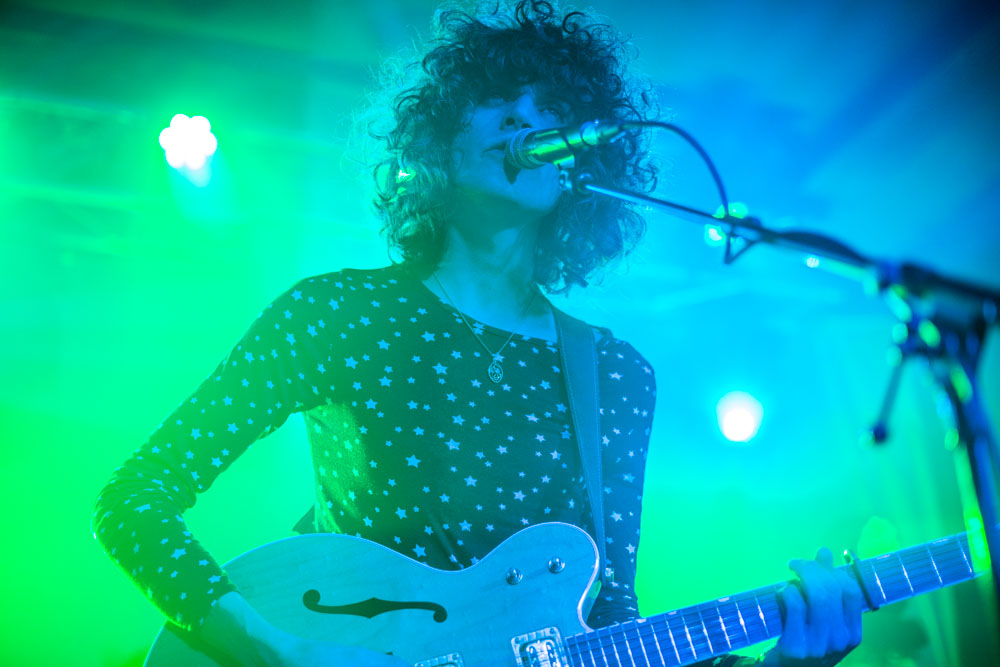 Pic: Carla Salvatore
Shindig! hadn't seen Temples since Green Man 2015, so it was with baited breath we entered Oslo to see them in this small venue show leading up to the long-awaited next album. Having heard new single 'Certainty' expectation was high. What would the new material be like? Would they wig out the known material? After more than a year touring the world how would the performance be?
'Certainty', the new single, has a late '70s/early '80s Euro prog/pop/electronic style, that suits the band incredibly well; 'Strange But Not Forgotten' almost, and I say almost, reminds this writer of a-ha, via it's high yearning vocal and anthemic Euro vibe kissed by an underlying '60s pop melody, 'Roman God-Like Man' has a far more Eno-esque mid-'70s art-rock borderline glam edge, and is particularly memorable, whilst 'Mirror' has a definite psychedelic edge filtered through a late '70s post-punk sheen that is a clever melodic, experimental reinterpretation of older music via the early '80s. Temples have a knack at making crowd pleasing pop that is both psychedelic and commercial. Judging from the new material, they have the "sound of 2017" nailed.
And yes, years on the road have really shaped this most photogenic band. That needs to be mentioned, as bands should look like bands… not regular Joes. Temples look every bit stars, and always have. If their early shows were often a little coy and muted, now when playing old faves they colour the music with a confidence and a patina of Harvest era Floyd and Charisma era Hawkwind. They extend songs, reshape them, add shimmering textures, effects and create a room filling pulse. Bold, loud, assured! Playing extensively has really grown the band, and in the live setting they stun.
We look forward to seeing what 2017 brings.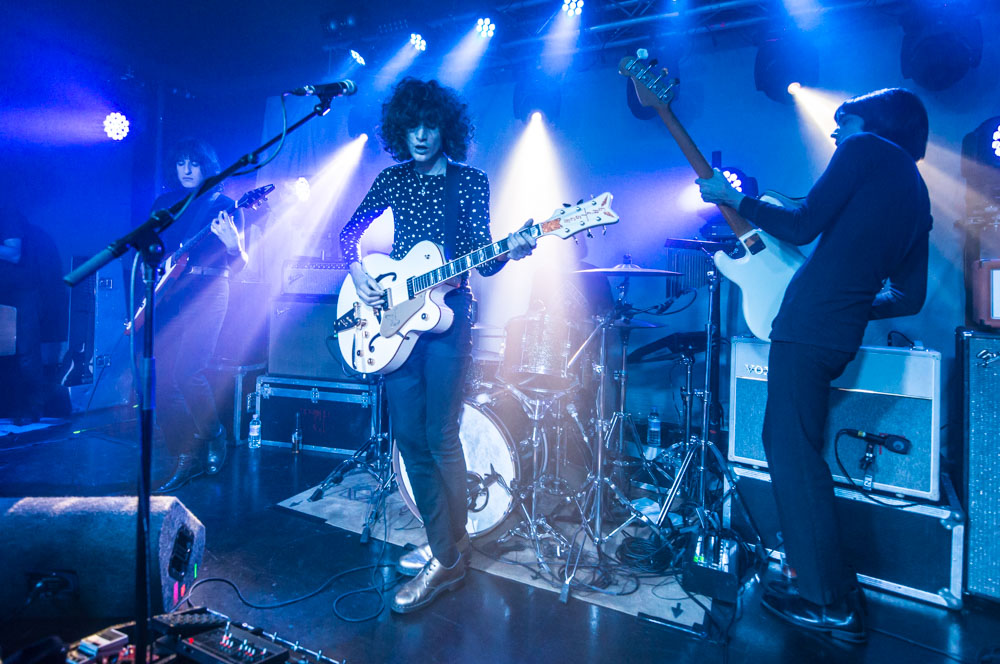 Pic: Carla Salvatore
Set List
Colours To Life
Certainty
Sun Structures
Roman God-Like Man
Keep In The Dark
Move With The Season
Mirror
Ankh
Strange Or Be Forgotten
Mesmerise
Shelter Song
——–
A Question Isn't Answered
Sand Dance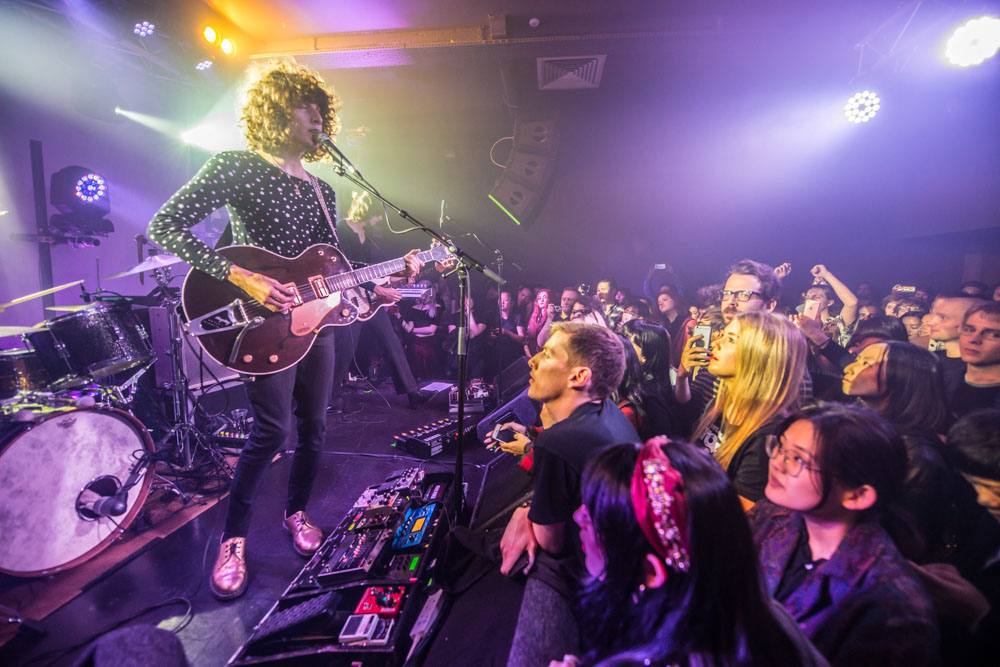 Pic: Carla Salvatore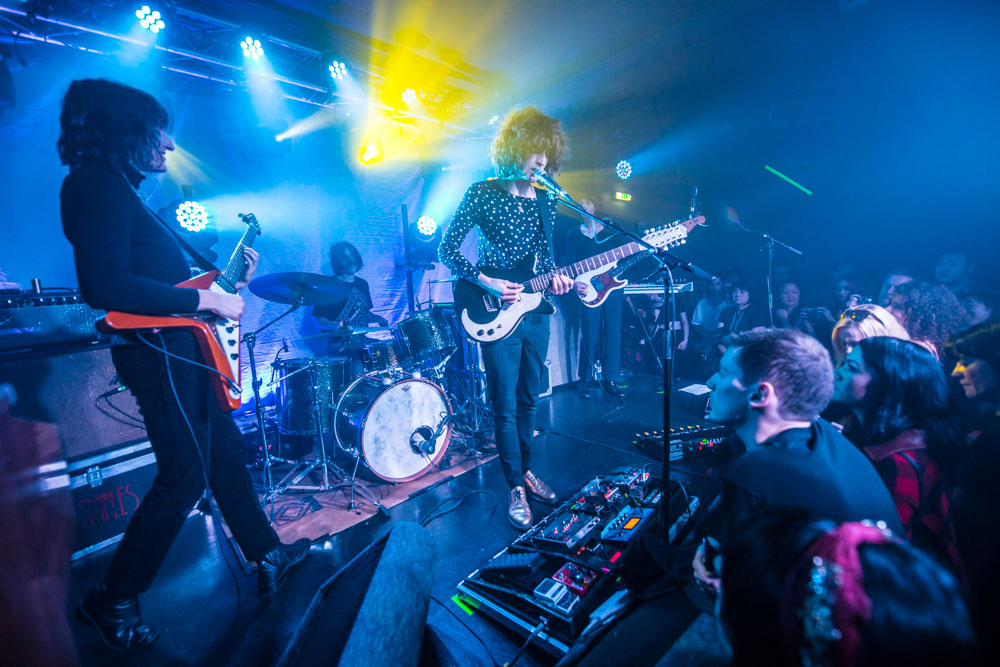 Pic: Carla Salvatore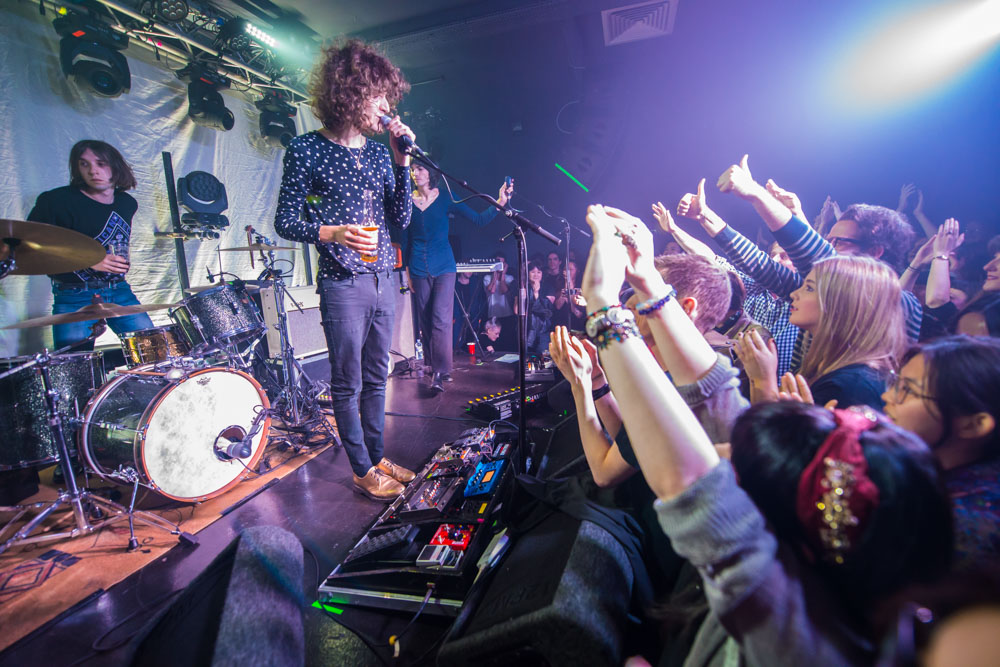 Pic: Carla Salvatore Posted in
Tagged with
Posted on by —
PHIL SUGGITT reports on camping, frugging and the music of the UK's premiere garage/frat gathering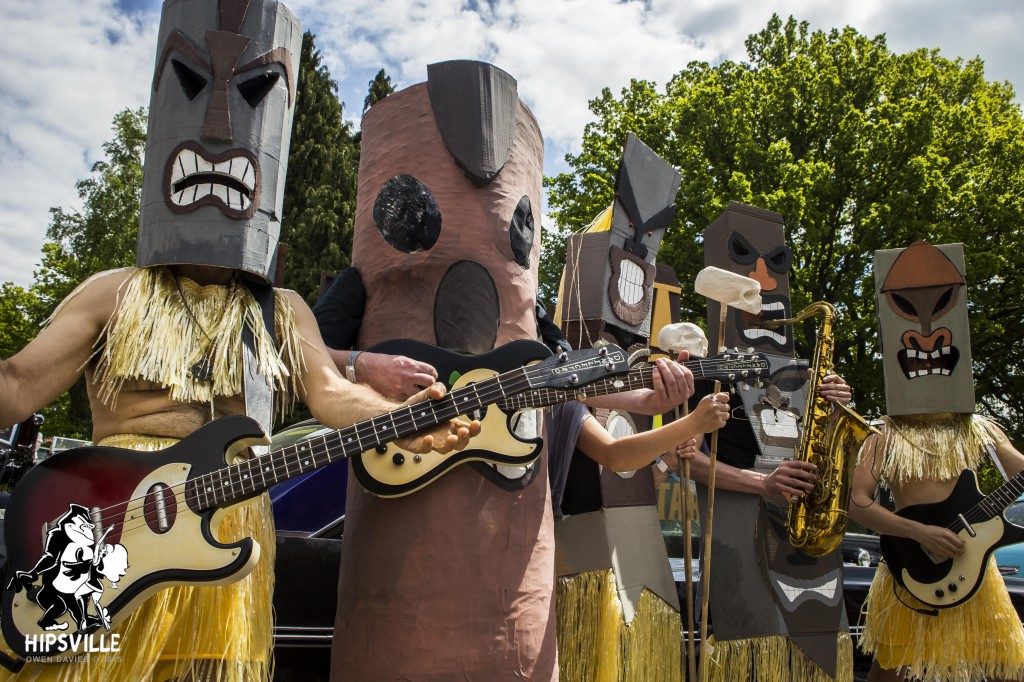 HIPSVILLE FESTIVAL, Bordon, Hants, 13-15th May
After three years as a mostly indoor event, this years' Hipsville festival was held in the open, essentially a cricket ground in the woods. Fortunately the sun shone, although the vibe might have been different had it rained all weekend. Small scale festivals have many advantages; they are always friendly, and it was a pleasure to walk straight up to the bar, food stalls or toilets without queuing.
Hipsville
This year's novel attraction was The Demon Drome, a '20s Wall Of Death. Saturday saw many spectacular stunts on vintage Indian motorcycles. In keeping with Hipsville traditions, Go-Go dancer Wanda De Lullabies premiered her "Cosmic Rider" burlesque at The Demon Drome, ably accompanied by US organ duo Archie & The Bunkers.
Friday's headliners were garage veterans The Wildebeests. Clad in Paul Revere costumes, it was obvious that the band were having a lot of fun on stage, which transmitted to the audience. Throughout the weekend, the bands that didn't take themselves too seriously were often the most entertaining. Davros & The Deep Space Deviants (aka The Stags) played a whole set of tunes reworked with Dalek lyrics, such as 'Sweet Home Planet Skaro.' France's L.A. Brats glammed it up with covers of Dolls and Hollywood Brats tunes, whilst on Sunday the reliable MFC Chicken delivered a really tight set of chicken-themed frat r&b.
Japan's Stompin' RiffRaffs, three girls and a guy, were a pleasant surprise, and went Theremin crazy. Possibly the best set of the weekend came from The Missing Souls, whose English/French/Spanish line-up should convince the UK never to leave Europe! They played a dynamic set of '60s garage with outstanding girl/boy vocals.
Posted in ,
Tagged with , , , ,
Posted on by —
THE ZOMBIES & GRINGO STARR
The Plaza Live, Orlando, Florida
February 24th 2016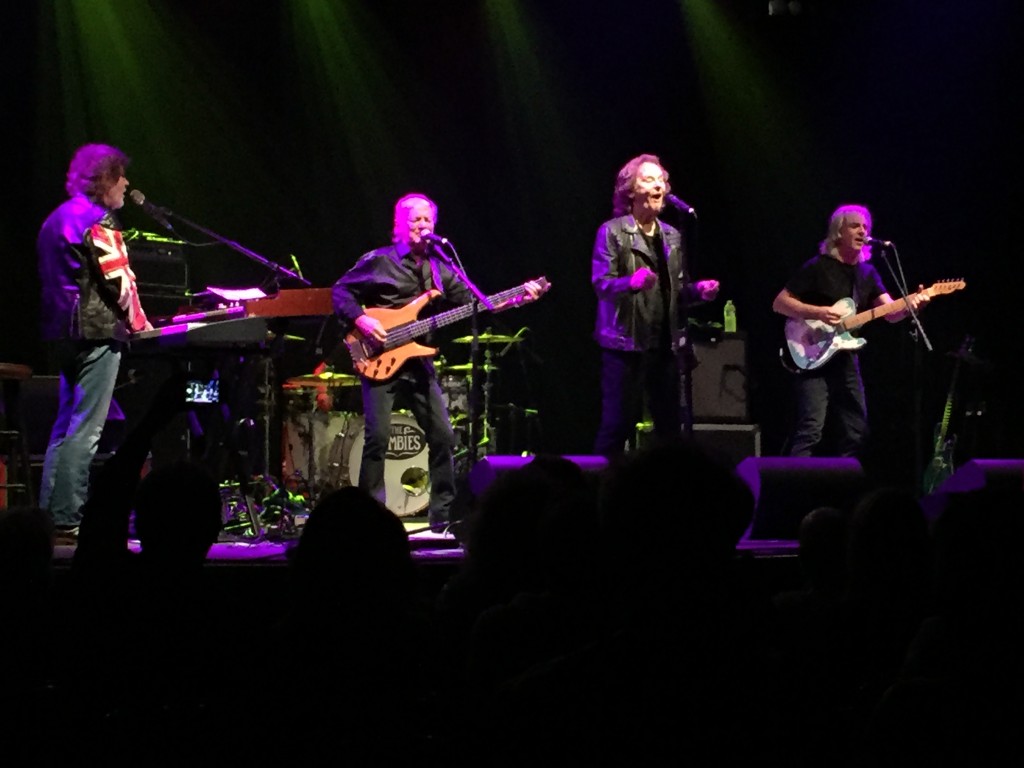 Orlando, Florida – land of Disney fans out for some kid-friendly fun, and not the most likely place to watch original '60s popsters The Zombies perform their singular brand of wistful English psych. Yet here we are, in a strip mall on the edge of town, where St. Alban's original hitmakers are kicking off a tour across the Sunshine State en route to Miami, where they're due to join a cabal of fellow '60s survivors like Vanilla Fudge and The Strawbs on The Moody Blues' annual cruise round the Bahamas.
Support act Gringo Star out of Atlanta play a neat line in Elephant 6-ish indie pop, suggesting The Zombies don't intend to entirely appeal to an oldies crowd – yet fans who probably saw them the first time around make up the core of the audience. And unlike 2015's tour which saw the band recreate their seminal 1968 album Odessey And Oracle with the help of Wondermints main man Darian Sahanaja and all surviving members of The Zombies' original lineup, this gig is performed by the current rock heavy iteration of the group in service of their new album Still Got That Hunger. The overall effect is somewhat schizophrenic, a show in service to an audience expecting hits like 'Sticks and Stones', leavened with the occasional "And here's another one from our new album."
Colin Blunstone remains a gracious, debonair presence, however, his voice as strong as in his '60s and '70s heyday, whilst Rod Argent is a killer keys man, one of the most underrated and sublime players of the psychedelic generation – and when they play a mid-set Oracle medley closing with 'Time of the Season' it's clear why fans who fell in love with them in the '60s remain as devoted to the band as ever.
Thomas Patterson
Posted in
Tagged with
Gringo Starr
,
Posted on by —
Norwegian psychsters London debut
Gold Celeste
Sebright Arms, London, December 7th 2015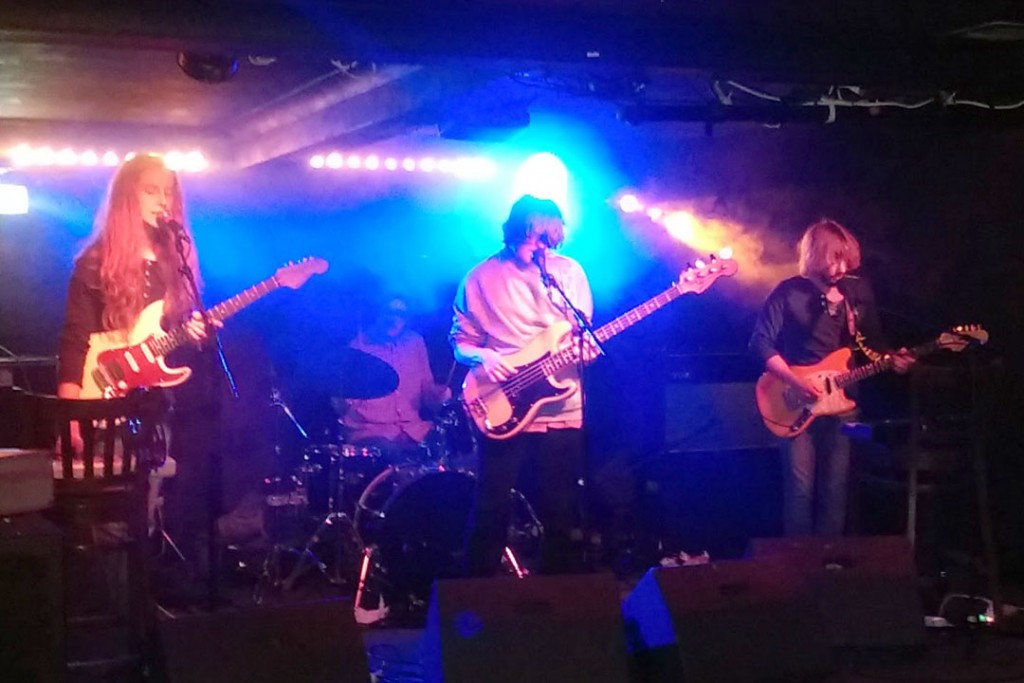 With perhaps more melody and harmonies than an East London boozer deserves on a Monday night, Oslo's Gold Celeste lay waste to Hackney's leaden December gloom with their particular brand of "Golden Psych Pop". Their live London debut is part of a brief two-date (self-financed) jaunt to promote new LP The Glow (released on Riot Factory last September). Gold Celeste's sound centres around the dual vocals of Simen Hallset and Eirik Fidjeland which are carried along by a slipstream of McCartney-esque bass shapes, West Coast guitar motifs, baby keyboard electronics, and the solid-but-loose drum dynamics of Petter Andersen. Highlights from the set include 'Is this What You Should Not Do' with its call/response dual-guitar chord theme sounding like a manic church bell being rung within an inch of its life. 'Open Your Eyes' shows flashes of The Flaming Lips, Caravan, and even Mad River's dissonant chord structures which bubble up quickly before being washed over by the band's trademark euphoric urgency. New single 'The Wonder Of Love' is drenched in sugar-coated reverb and sounds like The Turtles dropping in for a jam with Tame Impala, while its wistful coda is permeated by the spirit of Saucerful-era Rick Wright. The quality of the song writing is refreshingly strong with the emotional compass pointing to sounds which soundtrack life's highs ('Time Of Your Life') as well as tunes for those long, dark nights of the soul ('You And I'). Set closer 'Like A Poem' is transformed into something less ethereal live, and is extended to a brief jam with Simen remarking on the number of CCTV cameras on London's streets before riffing on the main vocal melody of Neil Young's 'Don't Let It Bring You Down'.
An interesting mental leap for sure. If these gigs serve as a calling card for a future visit, then Gold Celeste are handing out the aural equivalent of those of the luxurious, thermographically embossed variety. Hopefully 2016 will see them return to pick up where they left off. Be sure to catch them when they do.
Ian O'Sullivan
Posted in
Tagged with
Posted on by —
Seeing pictures of a zebra crossing has never been so exciting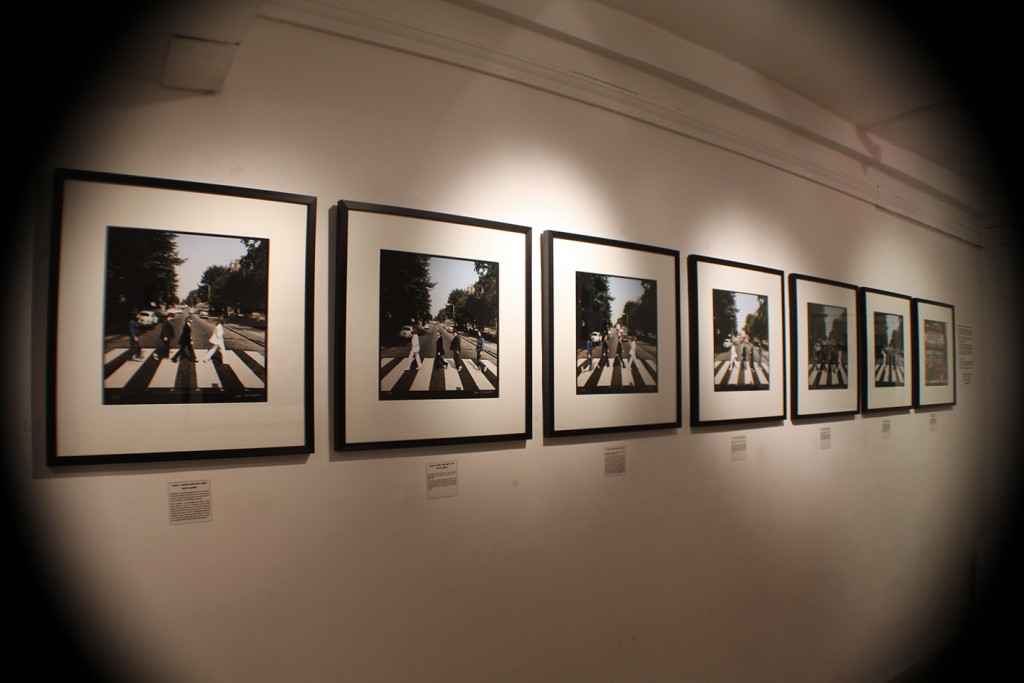 August 1969, a late summer's morning, a North London suburban street, four people leave their workplace and walk across a pedestrian crossing. This moment, captured on film was to become the Abbey Road album cover. This now iconic image has long been thought of as a visual document of a metaphorical "walking away" from The Beatles legacy and the studio in which had created the majority of their work. However, looking at the entire series of photographs taken by Iain McMillan – currently on display at the Snap Gallery in London – several of the shots show them walking back and forth, to and from the studio. It would seem there is more to the myths and legends built over the years when taking in the full picture of that day.
Apparently the choice of image for the album cover was based solely on it being the only one where they appear to walk in unison (although the overall design was previously pitched by Paul McCartney to McMillan in advance). Even the shoeless McCartney that fuelled the "Paul is dead" rumours of the time doesn't appear to be as deliberate as history records – he wears sandals in a couple of the unused images. Seeing all the photographs together gives a more fascinating insight with plenty more to ponder: there is a mysterious young woman in a purple top on three of the photos – who was she? Alan Parsons, an engineer on Abbey Road who was there at the shoot, has said that the presence of the police van (not seen on the majority of photographs) was due to concern by the local constabulary about the shoot stopping the flow of traffic in the area. This also impacted upon the time McMillan had available to get the photo. Also present is the rear cover photograph, showing the Abbey Road sign that, sadly, no longer exists.
It's fascinating to see this vital documentation of a celebrated moment in time. The photographs form part of the overall gallery exhibits which currently include equally rare shots of Jimi Hendrix, Nick Drake and Bruce Springsteen with more to come including a Small Faces retrospective in March 2016.
Posted in
Tagged with ,
Related News
Female wwe celebrities hd photos
How to make photopolymer plates
Lewis carroll photos petites filles
Como subo una foto de mi galeria a snapchat
Vida guerra playboy photos
Digital wallet photo album
Fountain photo op dress
Download christmas frames for photos